Northern Valley residents left a "public consultation" stunned and angry when their questions about the proposed wind project in their area were left unanswered.
Energy corporation Elemental Energy (EE) hosted the event in Elk Point, Alberta on July 18, 2023. Northern Valley residents who are part of a legal fund to oppose the turbines — nearly 55 families to date — showed up en masse to raise their concerns. As part of EE's obligations in applying for an energy project, the corporation is required by the Alberta Utilities Commission (AUC) to host a public consultation.
The public involvement program involves consultation with persons whose rights may be directly and adversely affected by the proposed project so that concerns may be raised, addressed and, if possible, resolved.

AUC consultation brochure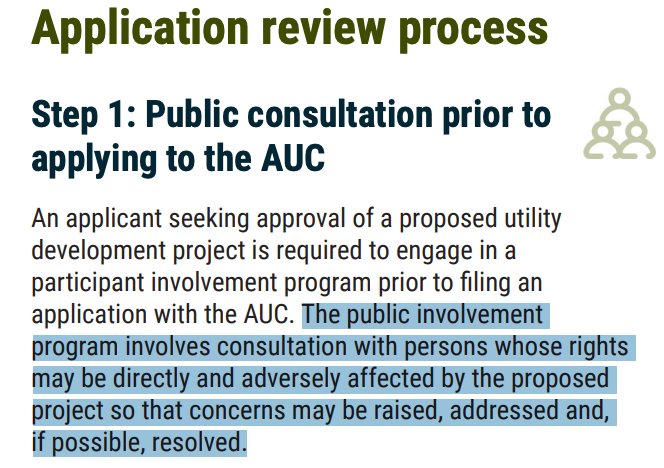 "What took place was not a public consultation, but an attempted public indoctrination," says Mark Mallett, Editor in Chief of Wind Concerns, who led the questioning. "Whether we asked questions as a group or individually, Elemental Energy repeatedly told residents that they didn't know the answer, didn't bring any data, or were simply offered silence."
St. Paul businessman, Chris Habiak, a member of the Wind Concerns team who had a hand in shutting down a proposed wind project north of Elk Point earlier this year, agrees.
I was expecting a group of representatives with some shiny poster boards showing us how good the project will be for the individuals and the community. What I wasn't expecting was the total lack of information. I didn't think it was possible to provide less information about a project, but Elemental Energy did just that.

Chris Habiak, Wind Concerns consultant
Perhaps most surprising was the lack of professionalism, says Mallett. Many residents noted how representatives, including the company's Principal, Jamie Houssian, turned their backs to residents while they were speaking, smirked, rolled their eyes, or lacked any sense of compassion for the serious questions and concerns being expressed.
Northern Valley life-long resident, Levina Ewasiuk, is an award-winning head nurse who is part of the research team with Wind Concerns. She was shocked by the complete stonewalling of her and others' questions.
I was extremely disappointed in the attitude Elemental Energy's representatives demonstrated. I was expecting to have the opportunity to ask questions and get answers to my key concerns, in a respectful, open and transparent forum. Instead I was greeted with defensive defiance.

Levina Ewasiuk, Wind Concerns researcher
"All that said, we knew what the game was going in," says Mallett, "that this was about Elemental Energy being able to check off a little box in their list of requirements by the AUC. But we recorded the entire affair, and it's absolutely clear that the concerns of citizens were neither 'addressed' much less 'resolved'."
"Elemental Energy's plan to divide and conquer by isolating each individual participant was clearly obvious," said Ewasiuk. "They refused to answer our common group questions and could not adequately answer our individual questions."
"If this open house was to provide the public with information, they failed," says Habiak. "If this open house was designed to answer people's questions, they failed. If this open house was designed to do anything but to satisfy AUC requirements, then they would have been able to provide the information we requested. All there was at this meeting was a lack of respect and response from Elemental Energy about the serious concerns the community had about this project."
"We will certainly be informing the AUC that Elementary Energy, who claims on their website to be a company of 'transparency and accountability,' was anything but," says Mallett.
Wind Concerns recorded and published a video of the consultation. "Every member of the AUC needs to see that what transpired was a sham, disrespectful, and did not fulfill EE's obligations as stated under Rule 007 of the application process," says Mallett.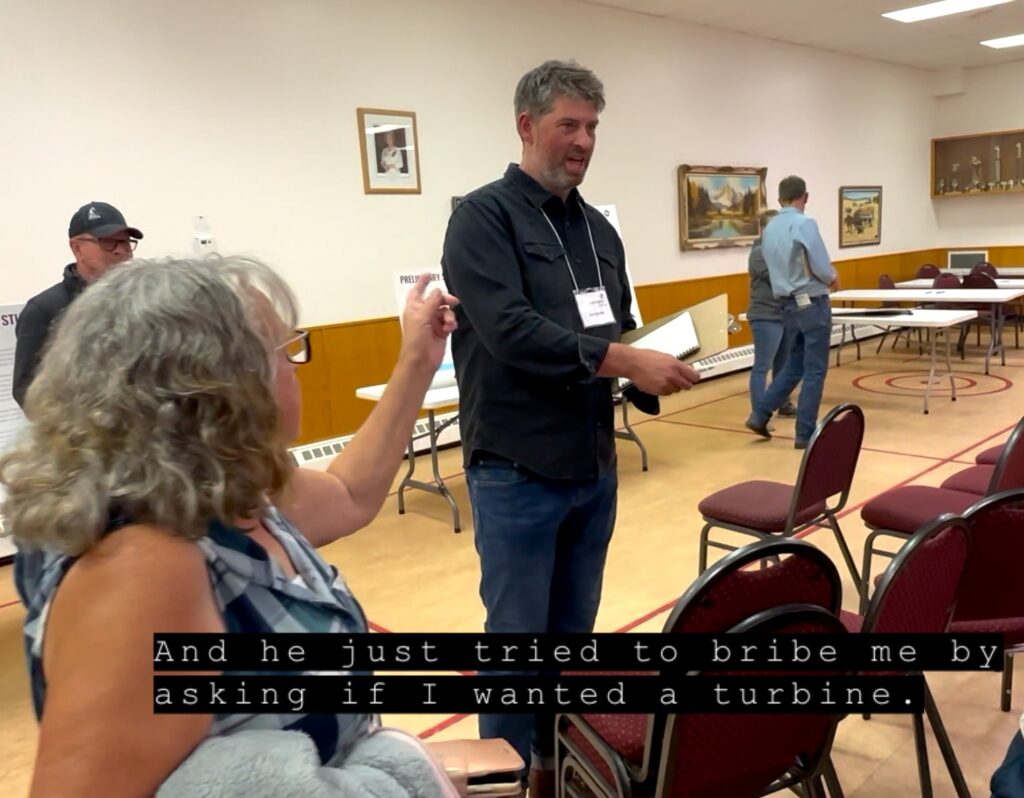 The video below clearly shows residents frustrated with EE's responses. And on at least two occasions, EE reps attempted to actually pitch turbine hosting to landowners — which enraged one family.
"The lack of empathy and even arrogance that was on display was disgraceful," says Mallett. "At one point, Houssian is seen boasting how he refuses to answer our questions but 'looks forward' to responding to our questions during an AUC hearing — if they get that far. The reason is that they know the process is not in favor of the citizens once it reaches that point. So this was not a public consultation — it was a public stonewalling."
"We hope every politician and regulator sees this video because, sadly, our experience is exactly what other Canadian communities in our shoes have reported. These energy companies apparently think they can walk all over our quiet rural areas and human rights without blinking. People can watch it and decide for themselves whether we're exaggerating or not."
Watch: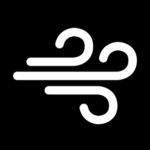 Wind Concerns is a collaboration of citizens of the Lakeland Alberta region against proposed wind turbine projects.