By Jonathan Lesser from New York Post, September 2, 2023
As the push toward electric-everything powered by green energy barrels along, proponents also refuse to confront basic physical realities.
Electricity accounts for just one-sixth of all energy use.
The rest is fossil fuels consumed for transportation, space and water heating, and manufacturing.
Convert everything to electricity and electricity consumption will increase. A lot.
According to the New York Climate Action Committee's Final Scoping Plan, New York will meet that increased demand by building almost 15,000 MW of offshore wind, like the Southfork Wind and Sunrise Wind projects, and over 40,000 MW of solar panels. (By comparison, the emissions-free Indian Point Nuclear Plant, which former Governor Cuomo forced to close, had a capacity of just over 1,000 MW.)
Because the wind doesn't always blow and the sun doesn't always shine, keeping the lights on will require far more backup resources.
This "reserve margin" – basically, the amount of generating capacity available to step in and meet electric demand – will need to increase from the current 20% to over 100%. 
In other words, for every MW of generating capacity in 2040, there will have to be an equal amount or more in reserve.
That's like having to buy a second car and keep it idling all the time in case the first one won't start.
The Scoping Plan claims this will be accomplished by building over 20,000 MW of so-called "dispatchable emissions-free generating resources" (DEFRs) and installing over 12,000 MW of battery storage.
Those claims are fantasy.
Start with DEFRs, which are generators that burn pure hydrogen manufactured from surplus wind and solar power.
They have yet to be invented (we repeat – they do not yet exist). Nor do any large-scale commercial plants to manufacture green hydrogen exist either.
Hydrogen cannot be transported in existing natural gas pipelines.
An entirely new infrastructure will need to be built.
Assuming a new technology will be invented by whatever date politicians decree is foolish.
That's not how technology works.
Just ask everyone working on commercial fusion power, which has been just 30 years off for the last 50 years.
As for battery storage, 12,000 MW will provide at most 48,000 megawatt-hours of actual electricity.
That may sound like a lot but based on the New York Independent System Operator's (NYISO) most recent forecast, on a windless and cold winter evening in 2040, it would keep the lights on for only one hour.
The materials requirements for batteries also are staggering, which is one reason why replacing existing internal combustion cars and trucks will be impossible.
Batteries require large quantities of cobalt, much of which is now mined in the Congo using child and slave labor.
They also require lots of graphite, most of which comes from China – the same with the rare minerals needed for wind turbines and solar panels.
Ultimately, nothing New York does will have any measurable impact on world climate because the state's carbon emissions are minuscule compared to the 35 billion metric tons of total global emissions.
As long as China, which accounts for almost one-third of world energy-related carbon emissions, India, and other developing nations focus policies on economic growth, rather than cutting emissions, New York's efforts will have no environmental value.
Nevertheless, if politicians and environmentalists were serious about zero-emissions goals, they would abandon the electrification mandates, and abandon reliance on wind, solar, battery storage, DEFRs, green hydrogen, and other unrealistic and unreliable energy sources.
Instead, they would embrace the one existing technology that dare not speak its name: nuclear power.
Unlike wind and solar, nuclear plants run all the time.
New, small modular reactors will offer greater safety, lower costs, and easy scalability to meet increased electricity demand.
Finish reading the article here.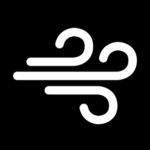 Wind Concerns is a collaboration of citizens of the Lakeland Alberta region against proposed wind turbine projects.