PRESS RELEASE
HIGHLIGHTS
• Elk Point rural residents are fighting back against Vancouver-based Elemental Energy's proposed industrial wind turbine project on the North Saskatchewan River Valley
• Citizens have organized themselves under the group "Wind Concerns" launching a website and mass information campaign
• Wind Concerns cites hundreds of studies and data that now show massive wind turbines are linked to serious animal and human health effects, and these have been recognized by courts of law
• Wind Concerns points out that the proposed project is in an official "Wildlife Sensitivity Zone" and directly in the migratory path of the endangered Whooping Crane
• Alberta's Environment and Protected Areas has been silent on the project
ELK POINT, ALBERTA: 4:37PM MST, MARCH 28, 2023:
"There is nothing 'environmentally friendly' about industrial wind turbines," says Wind Concerns Editor in Chief, Mark Mallett. "We call them "green" and "clean", but the truth is that they are incredibly destructive, not only to agricultural land and habitats, but they are definitively proven to show harm to animal and human health."
Wind Concerns was launched early in March 2023 in response to the sudden news that the picturesque valley around Elk Point, Alberta could potentially be changed forever by industrial wind farms. "I had just moved my family here less than a year ago. We couldn't believe it," said Mallett, who formed the citizen group when he learned that 15 turbines reaching 120m (394ft) above the horizon in the Northern Valley were planned for his "backyard", as well as a second project just north of Elk Point by Northland Power. That one was slated to begin with 35 turbines, however, it was abruptly cancelled after some 50 families stood up against the project. The company cited "a lack of wind" as well as other environmental factors that made the project unviable. But the Elemental Energy program is still in the works.
"We have learned a lot from our neighbors in Ontario in their experience with massive wind turbine farms," says Mallett. "The mad dash to replace traditional energy sources ran absolutely roughshod over people, basic rights, common sense, and the environment. It wasted billions of dollars — and is still not a reliable source of energy. And with today's announcement that the Federal Government plans to spend hundreds of billions of tax dollars we don't have to continue this mad transformation to a 'green economy', the citizens of Elk Point are saying no, absolutely not — not at the expense of our health, the environment, wildlife, and the beauty of the Lakeland region."
Mallett cites over 480 studies showing the harm to human health of those living near turbines. "They want to build these among acreages and farmhouses. We heard what it did to people in Ontario. It's just insane. It's unethical." A French court recently ruled in favour of a Belgium couple who suffered from "Wind Turbine Syndrome" caused, in part, by the infrasonic or inaudible spectrum of noise generated by these massive turbines. A Norwegian court awarded damages to herdsmen whose animals were adversely effected by the massive wind farms there. "The public is waking up," said Mallett "to the scope of destruction these wind turbines are causing. The general public doesn't know, so that's what we're trying to do — educate fast. We're not against clean energy. We're against energy corporations ignoring human rights and, in the end, doing more harm than good to the environment."
Mallett's comments come on the heels of an eminent Oxford scientist who is criticizing the "bluster of windfarm politics." Emeritus Professor Wade Allison says the scientific evidence and basic math show that wind farms cannot deliver consistent energy. "Wind power fails on every count," he said.
In a phone call with Mallett, Elemental Energy's Development Manager, Liam Wolfe, claimed that the project slated for south of Elk Point in the Northern Valley doesn't have "any key sensitive wildlife features" in the area. "That's simply false," said Mallett. "Not only is this a migratory path of the endangered Whooping Crane, which has been spotted in the area, but it's designated by Alberta Fish and Wildlife as a 'Wildlife Sensitivity Zone.' In other words, these wind corporations have no business attempting to put an industrial wind farm in the middle of such a sensitive ecological area, much less in the backyards of people's quiet farms and acreages." He says this should essentially stop the project dead in its tracks. While Wind Concerns has reached out to Alberta's Environment and Protected Areas office and its minister, Hon. Minister Sonya Savage, there has been no reply. "If ever there were a time for the government to protect this beautiful province, not to mention its people, it's now," says Mallett.
Wind Concerns sent out several thousand flyers throughout the county warning citizens of the project. "It's amazing how quietly these wind projects are being done. Most people don't even know — but they're starting to." A public meeting is planned for April 4, 2023 at the Seniors Recreation Centre in Elk Point where Wind Concerns will address the situation, educate citizens, and continue their mobilization to stop the project from advancing. "People are shaking my hand and thanking me for organizing this," says Mallett. "But it's not about me, though my family is directly affected. It's really about our country heading down a path that is doing far more harm than good."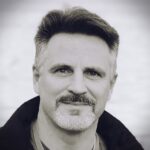 Mark Mallett is a former award-winning reporter with CTV Edmonton and an independent researcher and author. His family homesteaded between Vermilion and Cold Lake, Alberta, and now resides in the Lakeland region. Mark is Editor in Chief of Wind Concerns.